50 years after Roe: Planned Parenthood of MI explains reproductive health-scape in first post-Roe year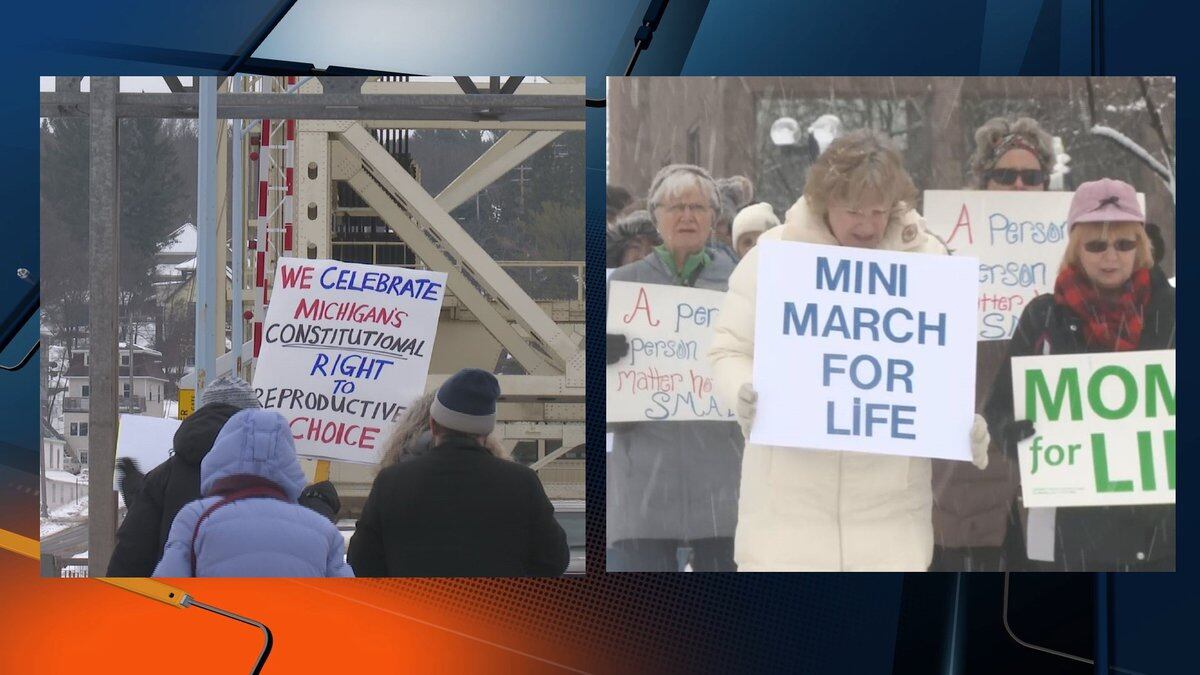 Published: Jan. 23, 2023 at 4:56 PM EST
UPPER PENINSULA, Mich. (WLUC) - In light of the 50th anniversary of Roe v. Wade Sunday and a year of historic legislative and judicial moves, Planned Parenthood of Michigan (PPM) is explaining what the state's current reproductive health system looks like as we move further into 2023.
In 1973, the U.S. Supreme Court solidified the right for a person to elect to have an abortion in the Constitution. That landmark decision was overturned in another historic move by the Supreme Court on June 24, when the court revoked the federal right to an abortion in its Dobbs v Jackson ruling.
PPM's Chief Medical Officer Sarah Wallett explained why pro-choice groups still recognized and celebrated the 50th anniversary of Roe Sunday, even after it was nullified.
"It's an important anniversary and I think a day to note," Wallett said. "Roe v. Wade was the way that we were able to provide abortion for a long time."
In April, ahead of the June decision, Dr. Wallett and Planned Parenthood sued to block a 1931 Michigan Law that would have made having an abortion a felony should it have been upheld. In May, a Michigan judge suspended the law pending the outcome of the Supreme Court case.
Despite the June decision, Dr. Wallett said there was a silver lining in the year's developments.
"Roe v Wade was not perfect. It did not ensure access for everybody. It allowed restrictions to be put in place. It still left those with the most need and the most barriers to care vulnerable to not obtaining care..." said Wallett. "As we think about the anniversary, we have the opportunity to think about a better future. We have the ability now in Michigan to build something more, to really get equitable access... The silver lining of this is that we never really had that opportunity before."
Wallet credited the beginning of that new opportunity to the passing of proposition 3 in November's general election. The proposition protects access to reproductive care and abortion in Michigan. However, abortion became illegal in many states, including neighboring states Wisconsin and Indiana (with the exception of rape, incest, or for the health of the mother and child). Wallett said that has only increased demand for reproductive care in Michigan.
"Ever since the overturning of Roe v. Wade with the Dobbs decision in June, we have seen an incredible influx of patients from out of state. Some weeks our out-of-state patients have doubled or even tripled from the volumes that we saw before that decision," Wallett explained. "The need in Michigan didn't lessen, and now we're seeing people from other states also needing to come to Michigan for care, and that's challenging.
Dr. Wallett said PPM has adapted its staffing and services to keep up with the demand for care from the added influx of out-of-state residents.
"Planned Parenthood of Michigan has worked really hard to try to expand access, to increase our clinic appointments, to increase our staffing, to offer more options, so we can try to meet that demand and not have delays," Wallett said. "We have created entirely new positions to support patients who need to get to one of our health centers. Helping them with travel, with lodging, with food, whatever that they need, because the challenges in place to get the necessary health care are so large now."
In the meantime, other federal decisions have been made to expand access. For example, on Jan. 3 the FDA finalized a rule change that broadens availability of abortion pills to more pharmacies.
Wallet was not yet sure what effect that decision will have on the demand for care at Michigan clinics.
"Mifepristone is a very, very safe medication. It can be safely dispensed by a pharmacist through a pharmacy," Wallett said, "but I think we're not yet seeing what change it will make in terms of access in Michigan. We're not sure how many pharmacies will stock it. Patients still have to meet with a provider to discuss medication abortion and get it be prescribed... I'm excited for what it can do, but I feel like we're not quite there yet to see how it will really impact access."
Meanwhile, pro-life groups marked the 50th Anniversary of Roe v Wade with demonstrations of their continued commitment to end abortion access across the board. For example, anti-abortion groups from across the nation met in Washington D.C. on Sunday to demonstrate their hopes for a post-Roe country moving forward. At the same time, Respect Life Ministry held a Mini March for Life in Marquette at Saint Michael's Catholic Church.
There, Respect for Life Ministry Chairperson Joyce Trudeau said it was about, "increas[ing] awareness of the need to respect and preserve life, but also for the community to see that we don't just support women who are pregnant, but we support them after the babies come."
Trudeau said the ministry provides diaper drives and other methods of care for mothers after child birth.
Despite Michigan having legalized access to abortion with proposition 3, Trudeau said she believes individual rights fall short of ending a pregnancy.
"God created us. He knew us before we were in the womb," Trudeau said. "We don't really have the right to take what God created and change that. Every pre-born human has the right to live and we do everything that we can to help out… We need to help each other so we can have life."
As for the FDA's approval of abortion medication being dispersed at pharmacies, Michigan pro-life groups have spoken out against the decision.
CVS and Walgreens are among the first pharmacies to indicate they will apply for certification to disperse Mifepristone. TV6 reached out to both. CVS Pharmacy said it has not yet has not been certified to dispense the medication and is not carrying or able to fill prescriptions for the medication at this time.
"We're reviewing the FDA's updated Risk Evaluation and Mitigation Strategy (REMS) drug safety program for mifepristone to determine the requirements to fill prescriptions for this medication in our retail pharmacies," CVS said in a statement to TV6. "Following that review, we plan to seek certification to fill mifepristone prescriptions written by authorized providers where legally permissible, and we'll follow all FDA safety protocols regarding the medication. The manufacturers are responsible for administering the REMS program, including the certification process, so they will determine the timeline for certification."
Walgreens has not responded.
Copyright 2023 WLUC. All rights reserved.